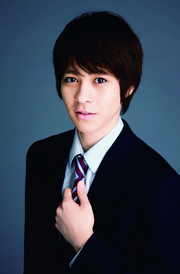 Shun Nishime (西銘 駿, Nishime Shun?, born February 20, 1998) is a Japanese actor and model who played Takeru Tenkuji (Kamen Rider Ghost) in Kamen Rider Ghost. He previously voiced Ghost in Kamen Rider Drive: Surprise Future and in episodes 47 and 48 of Kamen Rider Drive.
He is represented by the talent agency, Oscar Promotion.[1] His nickname is Shun Shun (しゅんしゅん, Shun Shun?).[2] He won the Grand Prix at the 27th Junon Super Boy Contest.[3]
Nishime was born in 1998 in Nagano Prefecture. During his childhood he moved to Okinawa. After graduating from junior high school, Nishime moved to Tokyo in order to become an actor.
While aiming to be an actor, he lived in his aunt's house and attend a Tokyo high school.[4] In 2014, Nishime won the Grand Prix at the 27th Junon Super Boy Contest while during his second grade high school. In 2015, he was appointed as the lead role in Kamen Rider Ghost. As starring alone, he is the youngest lead rider tieing with Takeru Satoh (Kamen Rider Den-O).[5]
References
Edit
Ad blocker interference detected!
Wikia is a free-to-use site that makes money from advertising. We have a modified experience for viewers using ad blockers

Wikia is not accessible if you've made further modifications. Remove the custom ad blocker rule(s) and the page will load as expected.