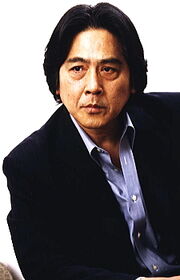 Ryo Hayami (速水 亮, Hayami Ryō?, born November 14, 1949) is a Japanese actor who played Keisuke Jin (Kamen Rider X) in Kamen Rider X. He reprised his role as Keisuke Jin in Kamen Rider Stronger, Kamen Rider (Skyrider) and in Heisei Rider vs. Showa Rider: Kamen Rider Taisen feat. Super Sentai. He also voiced X in Five Riders vs. King Dark.
In 2009, he complained that Toei did not inform him of the Kamen Rider Decade all riders movie, saying that he would be willing to return. In 2012, Ryo commented on the passing of Shigeru Araki, who played Kamen Rider Stronger.[1]

References
Edit
External links
Edit
Ad blocker interference detected!
Wikia is a free-to-use site that makes money from advertising. We have a modified experience for viewers using ad blockers

Wikia is not accessible if you've made further modifications. Remove the custom ad blocker rule(s) and the page will load as expected.