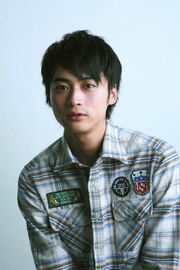 Masaya Kikawada (黄川田 将也, Kikawada Masaya?, born June 1, 1980) is a Japanese actor who played the reboot version of Takeshi Hongo (Kamen Rider 1) in Kamen Rider The First and in Kamen Rider The Next.
He played the reboot version of Hongo again in episode 14 of Kamen Rider Kabuto. He later made a guest appearance as Alien Gold "tE-rU
in Ultraman X
.
He also played in Pretty Guardian Sailor Moon as Sailor Jupiter's love interest Motoki Furuhata, as well as the sequel to Battle Royale, Battle Royale 2: Requiem.
He also was Yousuke the disc jockey in the movie Dear Friends, where he was reunited with Keiko Kitagawa. Furthermore, he was in the Japanese drama 'My Boss my Hero' playing Sakaki Mikio, younger brother to the main character.
External links
Edit
Ad blocker interference detected!
Wikia is a free-to-use site that makes money from advertising. We have a modified experience for viewers using ad blockers

Wikia is not accessible if you've made further modifications. Remove the custom ad blocker rule(s) and the page will load as expected.