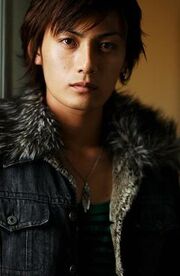 Kazuki Kato (加藤 和樹, Katō Kazuki?, born October 7, 1984) is a Japanese actor and singer who played Daisuke Kazama (Kamen Rider Drake) in Kamen Rider Kabuto. He also played the reboot version of Shiro Kazami in Kamen Rider The Next.
He is known for playing Keigo Atobe in The Prince of Tennis. In 2011, he had formed a new Japanese band called Joker and debuted their first single on 7 December 2011.

External links
Edit
Ad blocker interference detected!
Wikia is a free-to-use site that makes money from advertising. We have a modified experience for viewers using ad blockers

Wikia is not accessible if you've made further modifications. Remove the custom ad blocker rule(s) and the page will load as expected.