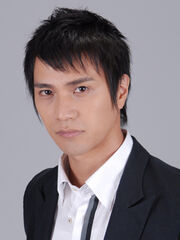 Hassei Takano (高野 八誠, Takano Hassei?, born January 9, 1978), born Mitsuhiro Tsuda (津田 充博, Tsuda Mitsuhiro?), is a Japanese actor who played Miyuki Tezuka (Kamen Rider Raia) in Kamen Rider Ryuki. He later played the reboot version of Hayato Ichimonji in Kamen Rider The First and Kamen Rider The Next.
He also played Hiroya Fujimiya/Ultraman Agul
in Ultraman Gaia
and reprised his role in Great Decisive Battle! The Super 8 Ultra Brothers
. He later played Keisuke Okamura in the final episode of Kamen Rider Drive. Hassei also appeared in 2004 film Oresama, alongside internationally recognised musician Miyavi.
He also portrayed Kurando Magira (高野 八誠, Kurando Magira?) in the science fiction drama Keitai Sousakan 7 (ケータイ捜査官7, Keitai Sousakan 7?). He is married with Yukari Ishida
(Reiko Fujimiya
in Ultraman Gaia and Superior Ultraman 8 Brothers).
They have a daughter named Hinaka. You can see this family in Superior Ultraman 8 Brothers as they appear in this film as Fujimiya, Reiko, and their daughter, respectively. He also played in the series of Rh Plus as Kiyoi who is a vampire.
External Links
Edit
Ad blocker interference detected!
Wikia is a free-to-use site that makes money from advertising. We have a modified experience for viewers using ad blockers

Wikia is not accessible if you've made further modifications. Remove the custom ad blocker rule(s) and the page will load as expected.